FASTX3 FRAME GRABBER
The FastX3 frame grabber series is for users who anticipate a demand for extreme I/O requirements and/or higher bandwidth, complex image processing and real-time high-speed storage in a cost effective platform. The base FastX3, is a one half-length raw form factor PCIe (X4) Gen2 board with either six basic 85 MHz Camera Link Channels up to two extended full Camera Link camera interfaces. The front-end data is formatted and preprocessed by an Artix FPGA beforie being sent to the PCIe (X4) Gen 2 interface. It also is POCL and has isolated inputs including three LVDS I/Os.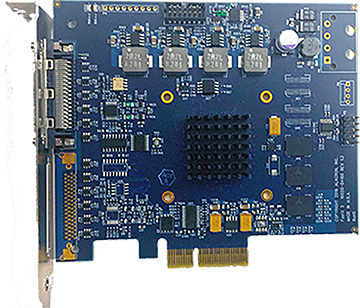 FASTX3 PCIe KEY FEATURES:
Raw PCI form factor board with 4 GB dedicated high speed DD2 DRAM for the front end Xilinx Kintex FPGA for sustained real-time front-end processing
Collects data from up to six asynchronous Camera (channel) Links and has POCL
Programmable Xilinx ARTIX FPGA for I/O interface configuration and processing
Four lane PCIe gen-2 bus interfac
Optional high speed I/O interface for alternative input formats such as GigEx4, UXGA/DVI, or CoaXPress
Supported by industry standard firmware development tools, including fully optimized basic data manipulation, data formatting and image processing routines
Drivers for Windows 7, 10, and Linux
FASTX3 BOARD OVERVIEW
I/O INTERFACE
Up to six 85 MHz Bidirectional Camera (channel) Link I/O
Three LVDS Isolated I/Os
PCI-e INTERFACE
Data width of four lane PCI-express Gen-2
Peak DMA rate - 2GB/sec bidirectional.
CAMERA CONTROL
Serial port- Asynch., RS-232 which runs from 75 to 11.2K baud
USB
Camera Link controls (optional)
3 LVDS I/Os isolated
FPGA/MEMORY OPTION
Four GB DDR2 DRAM memory directly connected to the input multiple ARTIX7 FPGA options for high-speed input and processing
Click here for the datasheet