Software Overview
OVERVIEW
Alacron provides a stratified software environment that provides exactly the level of functionality without added complexity to get your machine vision or imaging application up and running quickly — from concept to working high performance systems. O/S environments supported include Windows 2000, WIN XP, Solaris, and Linux.
For a quick and effortless integration of Alacron's frame grabbers one can use either ALACRON FAST MOTION APPLICATION or DIGITAL VIDEO RECORDING PROGRAM (DVRP)
LINKING YOUR HOST PROGRAM TO ALACON'S FRAME GRABBER
If you would like to link Alacron's frame grabber functionality to your host based program then Alacron provides ALACRON FAST MOTION LIBRARY which allows the compilation of frame grabber functions within your application.
DEVELOPING AN OPTIMIZED ON-BOARD VISION PROCESSOR/FRAME GRABBER APPLICATION
Alacron's CODE DEVELOPMENT TOOLS, LIBRARIES AND APPLICATIONS provides all the facilities needed to develop and debug code for simple framegrabbers to multiprocessor applications. The diagram below outlines the extensive suite of imaging and machine vision application tools and libraries that Alacron provides for rapid development. Just click on the box of interest and you will be linked to the detail page for that application or library.
Additional example applications can be accessed by clicking ALACRON APPLICATION NOTES link that presents application using Alacron products that include: Axial Tomographic, Reconstruction, Fruit Inspection, Semiconductor Mask Inspection, Semiconductor Mask Inspection using FastChannel, Product Line Inspection, Machine OCR, Real-Time Imaging, and Ultrasound.
ALACRON TOOLS AND APPLICATIONS
Tools and Libraries

Applications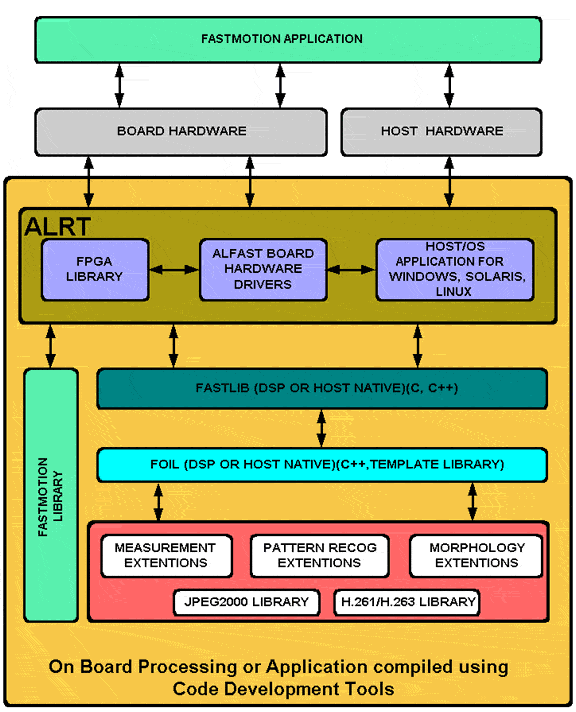 Click here to request a Data Sheet or a Manual.